No Spam Promise: We will never share your information.
Are you feeling stuck and stagnant?
Is your goal or project still in the invisible zone of your "mind"?
Do you wonder how to get your dream out of your mind and into the world?
Filmmaker/Writer/ Producer Ronna Prince shares
with you the Keys to making your dream come true!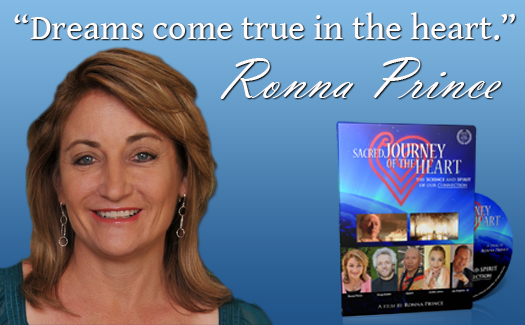 It's all about the Heart! The heart is where the action is - the heart generates the energy that propels your dreams into reality!
Sign up for instant access to a free 5-part process to energize you on your journey to activating the power of your heart and magnetizing a new reality!
By signing up I will share with you what I learned including how to: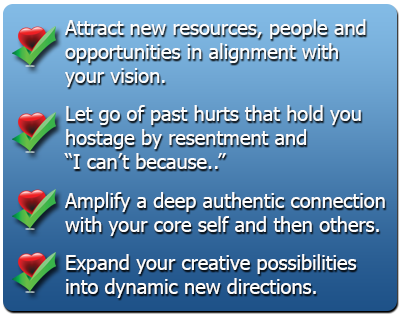 You will receive an email with links which will provide you with: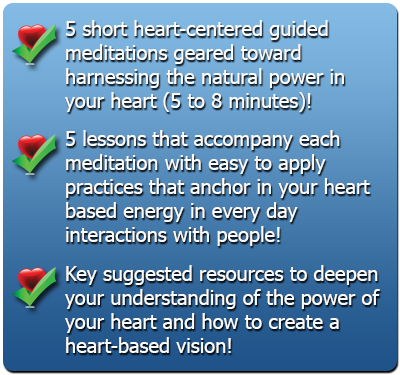 Do you want to know MORE about what this process has done for me? Read on…
I thought I had it figured out… I thought I knew how to manifest and create - and I DID as long as I was playing in the "zone of the known". Believe it or not, I was a highly successful corporate banker for the first 20 years of my adult life!
But when I started to pursue my big dream in a whole new arena -self-employment as a spiritual teacher and life coach, I began to hit my first of a series of major roadblocks. I couldn't think my way through it… I had to learn, step by step, how to imagine, dream, shift, transform and create!
Along the way, I discovered the Keys to opening my heart and completing a Big Dream - making a film with world class experts and practical tools for heart-based living. I am excited to share a free 5-part series consisting of short guided meditations and accompanying daily heart-stepping stones to guide you on your journey to creating your dream!
In this quick and easy to apply course, you will set the foundation for manifesting your big dream!

No Spam Promise: We will never share your information.