Slowing down to amp-up life's pleasures
The Clear Heart Program Introduction outlines the process of amp-ing up to enjoy life' s pleasures. Please email me to request the re-broadcast link. ronna@modernmastery.com  
Have you ever gotten to the end of the day and thrown yourself on the couch and wondered "What did I do today? How did the day go by so fast?" This is a hallmark statement of an over-busy life. I've had a few of those recently.  And it was as if the universe had honed in on this issue for me when I received a slew of emails from people that started, "I know how super-busy you are but…. "
This gave me a pause. One that I was over-due in taking! Because I had gotten into a whirlwind of activity, some of it creative, some of it habit-driven multi-tasking and some of it related to an old avoidance pattern.
When I started looking into the issue, I came across this interesting chart: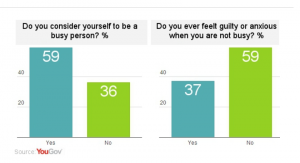 This poll from yougov.com shows that 59% of people being polled consider themselves to be busy and over 1/3 of the people polled felt guilty or anxious if they were not busy! Uh-oh! When I got honest with myself, I had to admit that I can easily slip into the feeling of "not-enough" if I really slow down! So underneath a lot of busy-ness, can be feelings of unworthiness or the desire for perfectionism. That's what I'm referring to when I mention an old avoidance pattern.
If we have some vestiges of unworthiness or perfectionism, they will tend to crop their heads up from time to time when we start slipping into busy-ness.
Obviously, keeping busy then becomes a defense pattern to avoid these feelings and being not-busy results in guilt and anxiety! And it's true, guilt feels like a shadow on the heart- this is not a clear heart at all!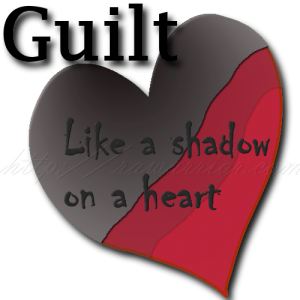 So rather than diving in to change my busy-pattern right away, I took my own advice from my last blog ("When not to change your life…. Now), and just observed myself for a few days. But the more I observed myself in my over-busy-ness, the more I slowed down naturally, remembering to breath more consciously, to pay attention to what I was doing, and to enjoy the little things in life.
I also realized my upbringing with a strong mid-western work ethic had caught up with me again. Don't get me wrong, having a good work ethic is important but some of us got a big dose of guilt with the message.  My grandparents were farmers and spent long days working in the fields. When we wanted to laze about on the weekends, we always got a lecture about some aspect of the value of work, sometimes peppered with words like "good-for-nothing" and "low-down lazy dogs" to describe people who didn't work hard enough.
Guilt and Fear mixed all together: Snakes in the field:
The summer that I was 13 years old, my parents decided we needed to spend some time working on our grandparent's farm in Wyoming in order to learn the value of work. So my 15 year old sister and I would get dropped off in the beet fields at 6 am to hoe weeds all morning. This was in the days before cell phones. The only problem was that the beet fields were filled with rattlesnakes because it was such a dry season that year. We finally got out of our weeding job after I nearly sat on a baby rattlesnake next to the irrigation ditch!
We spent the rest of the summer painting outbuildings. It seemed that whatever we did, someone else was always working longer and harder than us, so my sister and I would find ways to goof off while no one was looking! A few times we got caught up and received a dose of "lazy kid" guilt. I'm sure a lot of you have had similar experiences.
The key thing today, is this pattern of guilt for being not-busy will drive periodic times of over busy-ness. The first step then, is bringing it up to consciousness again~
Banish Guilt- Create from a Clear Heart!
This is the way "Creating from a Clear Heart" program works. The first step is being conscious and the rest of the steps flow from here.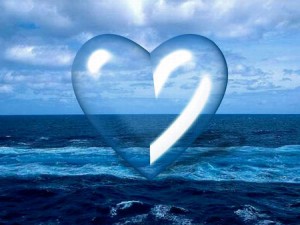 The steps of the Clear Heart process are:
C- Conscious – Choosing to bring consciousness to a situation or emotion
L- Light Heartedness – Learning to cultivate and activate a sense of light-heartedness
E- Empowerment – Emancipating old patterns and habits by taking empowered action
A – Appreciation – Acknowledging your appreciation for what is occurring
R- Responsible – Restoring appropriate balance between heart/brain resulting in responsible thoughts, feelings and actions
In the recorded broadcast of the Clear Heart Program, I discussed the 90/10 and 10/90 equation relationship between the heart and the brain. An optimal energy equation is 90% heart/ 10% brain. As I described in the webinar, this equation correlates to our physiology where 90% of the signals through our vagus nerve travel UP from the heart to the brain and only 10% of the signals go DOWN from brain to heart.
Out of stress and over-busy-ness, most of us are operating energetically in the inverse  0r 10% heart and 90% brain.
When we learn how to correct this imbalance, we can easily choose to slow-down our pace  and our breathing. We then end up being more present and flowing and capable of amping-up life's pleasures in all things! And we easily let go of old feelings from the past that related to unworthiness and the drive to perfectionism.
For example, writing this article could be stressful and feel like "work I HAVE to do". But I am experiencing it as a flowing, easy energy grounded in appreciation and enjoyment.
So in this way, I am not busy, I am present and enjoying what I am doing this very moment. Likewise, with my work with clients, I am not busy when I am present in a session. I am focused on being present and I am appreciating the privilege of connecting with another person's heart, hopes, challenges and dreams.
To schedule a Clear Heart Session with me or to view the rebroadcast of The Clear Heart Program, contact me at ronna@modernmastery.com