January, 2016
Ronna Prince is a filmmaker,  a Certified HeartMath Coach and HeartMath Instructor and a Radical Forgiveness Coach
https://www.facebook.com/SacredJourneyoftheHeart/?ref=hl
Going on now! The Fat Summit Click here to join
At the end of this article: Information and web links for my 30 minute free webinar on moving F-A-T, using my newest energy process that incorporates music, working with the body's intelligence, and moving emotions to free us from fat!
I'm inspired by the current Fat Summit this week (January 24-31, 2016) to write more about the fat issue. In many ways fat is a "twisted issue" because of misinformation which has led to confusion. We were taught over the last two decades the "eating fat makes you fat". This is the #1 cause for our prevailing "fear of fat".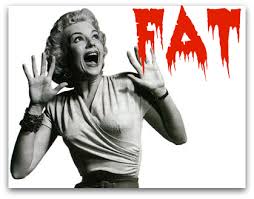 I've got it and I still struggle with feeling ok while eating good fats.
PLUS, in English, French and probably a lot of languages, we use the same word for fat in our foods "fat" and fat that gets stored on on bodies "fat"!! This is downright crazy-making. We have the message that body fat is bad, certain food fat is good! (I just learned from Nick Ortner that the Tibetans have totally different words for body fat and food fat. We got language-deprived somehow, complicating our relationship with the "energy of fat"!)
On top of that, even though over 70% of us in America are "fat" or overweight to some degree, we still have a sense of judgment about ourselves or from others,  and even perhaps, shame about our weight.
However, I see the actors on television ads and shows more and more overweight as time goes on, reflecting what's happening in society. Is this a good thing or a bad thing? Maybe some of both. Accepting ourselves as we are is the starting point for change, but settling for a new norm of fat-ness can and does have far-reaching health consequences. I vote for living in a body that feels good, moves well and stays vibrantly healthy as we age!
A few days ago, I shared with you that my acronym for F-A-T is Fear-Avoidance-Technique.
To flush this out, what I mean is that when we end up with excess fat on our bodies, inevitably we have been engaging in some type of of feelings-avoidance (unless we truly have a genetic-hormonal imbalance).  We have usually "gone dark", or have been engaging in unconscious eating or drinking that imbalances our body's set-point and signals our biochemistry to start to drive fat into our cells, to store it, and to lock in it place. (If you want to know the biology of this, Dr. David Ludwig's talk, the Biology of Obesity is very informative.)
Further complicating this is that the foods that we typically reach for when we are in full F-A-T mode (feelings avoidance) are ones that immediately make us "feel better" but at the same time convert quickly into stored fat because we are creating an insulin imbalance in the body.  Things like chips, cookies and ice cream – those processed carbs that we know we should avoid but we eat anyway because of the pleasure factor.
The most serious health risk is that as we get fatter, we store more belly fat. Belly fat is the most dangerous fat because it makes toxins and releases chemicals called cytokines. As I understand it, cytokines are the real bad-guys of fat, because they cause inflammation and can lead to all sorts of diseases including heart disease, cancer and diabetes.
I've enjoyed all of the information on the Fat Summit so far, but so far, none of the speakers are presenting a technique or program that deals with the feelings that led us to overeat and that also directly address to storage area of these feelings- the BELLY!
I'm excited that the new technique I developed last summer, called the Triple Heart Healing Technique, or THHT, does both of these things: with an easy-to-learn process, we address and MOVE the feelings that lead to fat by connecting physically, emotionally and spiritually to where they are stored. How long does this take? 5 minutes.
What are the side effects? Freeing up the feelings that cause us to go dark or unconscious and to then soothe ourselves by eating processed carbs! Having a specific technique to address feelings that get stored as fat in the body is an essential part of  any weight loss program.
While I haven't used the THHT specifically with my clients to address weight, I'm starting to now. I invite you to join me on my free 30 minute webinar next Wednesday, February 3rd at 6 pm Mountain time to learn about and try out the THHT.
Title: Moving the feelings of FAT!
Date & Time: Wednesday, February 3rd at 6:00pm Mountain
Event Page:
http://iTeleseminar.com/80222781
Attend by Phone:
Guest pin code: 339751#
Primary dial in number: (425) 440-5100
Secondary dial in number: (619) 471-1669
Full list of dial in Numbers:
http://InstantTeleseminar.com/Local/?eventid=80222781
Let's learn to shift F-A-T (feelings avoidance) to F-I-T (feelings incorporation)
For more information, please contact me at ronna@modernmastery.com
By Ronna Prince, Numerologist, Aura-soma practitioner and "Master Soul Decoder"!
At the end of each year, I spend time "decoding" the major themes of the upcoming year through numerology. One of my greatest passions is to decode the vibration and resonance of word and names to reveal the deeper meanings behind things.
Whats' a "Master Soul Decoder?" My clients often say to me: "Wow! how did you know that?", when all I've done is look at their name numerology or decoded a series of 4 or 5 numbers that they give me in the beginning of their session.  These numbers are not random at all! The series of numbers my clients give me are what I call their "soul code" as it pertains to the issue they wish to explore during the session.  When I look at these numbers, it always, without exception, tells me what their soul is really desiring to hear, to do, or to stop doing to make progress on  their life's journey. That's why my clients have given me the nickname, the "Master Soul Decoder"! (If you'd like to experience the magic and confirmation of your "soul's code", please contact me for a Soul Codes Session. For more information, click here for my coaching website.  Modern Mastery
How does it work and what can a numerology-based title do? I have been using Pythagorean numerology for years as a foundation of my coaching practice. Understanding your personal vibration through your birth name and birth date is very helpful in knowing your life's mission and purpose.  Every major project I undertake is based on the vibrational message that's behind the title.
For example, Sacred Journey of the Heart, the title of my award-winning documentary film, equals 111 when the letters are translated to numbers.  111 is a very important triple master number that signifies the sacred trinity in all things. And 111/3 is about partnership. I created the film title based on that number. And it created a "resonant field" around it that influenced the decisions of many of my guest speakers to join the project. That's how powerful I believe the underlying resonance of words are.
As Plato, a student of Pythagoras said
The Influence of the Calendar Date: In addition to our names and the titles of things, we are all greatly influenced by calendar dates. We are aware of what the date is and what we have scheduled day by day, often referring to our calendars and datebooks to set our schedules and remember what we've planned to do.
Let's look at the numerology of 2016 and translate it into the major vibrational themes we have to work with this year. First, here is a basic chart that shows you have Pythagorean numerology translates letters to numbers.  It's very simple: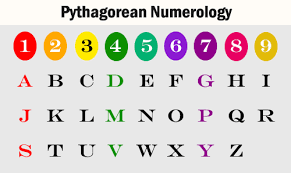 The year 2016 = 2+0+1+6=9.  There are many iterations of "9″ that we can examine that will give us insights about the overall 9 theme.  For example, 2+0+16 = 18.  This is the most powerful and basic of the "9″ themes. When we translate the word "love", it equals 18/9.
Love translates as:  L=3; 0=6, V=4; E= 5  3+6+4+5= 18; and 18 is 1+8=9. Very simple!  In my estimation, numerology is not just a little game or something interesting. It forms the vibrational foundation of everything.  This aligns with the first two Universal Laws which are the Law of Vibration and the Law of Resonance.
Numerology and the first two Universal Laws: The Law of Vibration states that "Everything vibrates".  Everything moves and nothing is completely at rest.  The Law of Resonance states that once expressed, a vibration will continue to resonate and impact nearby energies, creating a sympathetic and/or dissonant frequencies. These two laws are the foundation of all other Universal Laws that construct our reality.  If you are interested in my online webinar, the 12 Laws of Universal Creation, click here. 12 Laws Class
So if you know the foundation of number's frequency, you know exactly what to build upon it.
For 2016 the key words are all related to the frequency of 9.  In general "9″ indicates an opportunity for humanitarian service. To me, this means doing something that will benefit all of humanity and not just the self. It is about stepping outside of our personal roles and goals, and expanding into something that is helpful to others on a larger scale. A 9 year contains the possibility of "expression of our true service in the world".
Within this definition, there are key "9″ words:
Expansion = 45/9
Expression = 54/9
Service = 36/9
Opportunity – 63/9
And as I've already shared, Love = 18/9
I have actually written out my mission statement for 2016 based on these as few other key vibrations!
Here are a few more "9″ themes: Grow= 27/9, Leader = 27/9, Inspire = 45/9, Determination = 72/9.
The Key Choices of 2016: In every year, we have a choice to make about how we will interact in the world.  Last year, 2015, a year of "8″, was about the basic choice to "trust" which equals 17/8″  or to "doubt" which also equals 17/8. If you take a minute to think about last year, you will undoubtedly see how this theme played out in your life.
This year, 2016, the choice is centered around Love and power. As we've seen, Love = 18/9. That's the basic energy of this year. But Power is a 32/5 word.  So power itself is not a theme. But if we look at how we embody our power, the "9″ choice becomes clear.
Powerlessness = 54/9
Much, if not all of our frustrations about expressing and expanding our life's true purpose comes from a basic feeling of powerlessness. If you are willing to fully embrace your power, from a foundation of Love, you begin to embody a different "9″ vibration:
I Embrace the Power I Am = 99! "99″ is the super "9″ master number.  It's like putting a big explanation point on the 9 and telling the universe – "I mean it!"
Even more power-full, is this statement:
I Love Being Powerful! This also = 99!  Say this out loud and see how it feels. I'd never said this out loud before I decoded this phrase as being the "Master Generator" number for this 9 year!
Most of us learned to be afraid of our power when we were little. We never learned what it means to fully embody our power from the foundation love. All of my teaching in 2016 is based on the foundational vibration of "9″. My latest technique, the Triple Heart Technique, also resonates with 9.  Triple Heart Technique = 108/9.
This all-new healing technique uses the power of sound through music, an awareness of our expanded energy system and a simple process for healing stuck emotions. When we do this process, it becomes very easy to move forward into this year of opportunity, expansion, expression and love!
I will leave you with some of my favorite Master 99 statements for 2016:
Authentic Soul Embodiment = 99
Quantum Leap in Compassion = 99
I Love Being Powerful = 99
For more information about the Triple Heart Healing Webinar or any of the other sessions I've mentioned, please contact me at: