coritisol
Drivers who don't signal to turn or who speed up when you try to pass, cigarette butts on the ground, people who carve their initials in rocks in state parks, people who cut in line… This is a short list of my pet peeves. Instead of letting these little peeves sneak up and upset me, I decided to work with them and wow! I discovered that these pet peeves can create a BIG change in my inner landscape.
But first, why ever bother to do anything about a personal peeve?
What is a pet peeve? According to Wikipedia: A pet peeve is a minor annoyance that an individual identifies as particularly annoying to himself or herself, to a greater degree than others may find it. Also, it is defined as "a thing that provokes one the most". (Etymonline.com)  The origin of the word came about in 1919, from the 14th-century word peevish, meaning "ornery or ill-tempered".
So really, anything that provokes us to be ornery or ill-tempered has the potential to reflect on our own inner emotional landscape.
Each time we get riled up, there is a cascade of physiological reactions: our blood pressure can go up, our heart rate accelerates, and we get a dose of cortisol, the stress hormone, racing through our entire system. And, we are usually angry, annoyed and provoked about "them" doing something to "us". And if you've read my HeartMath blog articles, you know that the heart signal that emanates from within, sends BIG signals to all of those around us, that translate to "stay away from this person! they are mad!"  http://sacredjourneyoftheheart.com/blog/?p=163
Take a minute to write down your top 5 pet peeves before reading on. This is a fun exercise!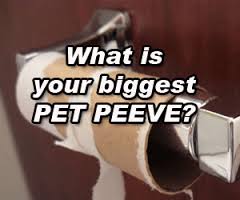 Now that you have your list, ask yourself, "What does each peeve really mean about what I am doing? How does it reflect on my actions and reactions?"
For example, when I discover that there's no more toilet paper on the roll, I am capable of yelling around the house: "Am I the ONLY one who can change a toilet paper roll in this house?!"  Even if my kids are not home, I can stomp around and be angry. And depending on when you discover the absence of this crucial element in the bathroom, it can be worse than just an annoyance!
Having fun with this means translating each pet peeve to a more symbolic meaning: (and there are many with the empty toilet paper roll, but I will stick with the less visceral ones…) For example, what are the "clean-up" things in my day to day activities, am I leaving undone, or expecting someone else to do for me? Oh boy! this points right to something going on right now. My PR guru is setting up a new landing page for me and I have yet to get her the two paragraphs of  content for it. Somehow, I've been hoping she could do this little "dirty work" for me – after all, she knows what I'm trying to do!!
Another interpretation is this: it's time to get into the crevices and around the floor boards of my home for Spring cleaning. I'd rather have someone else do it for me, but I know it is an important task for me to do myself. Taking care of my beautiful home is an important act of gratitude. Why is it important and useful to do this little exercise?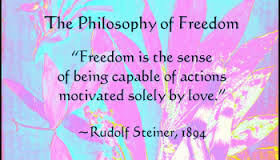 1) it frees you from petty reactivity and unnecessary physiological stress
2) when you realize that you can actually change your physiological reaction to little stressors, it is much easier to apply the principles to bigger events.
3) You stop reacting like a victim to other people's "bad actions" and you CHOOSE to  shift your behavior and emotions to a more responsible place.
4) You have more fun interacting in the world from a place of levity and light-heartedness instead of anger, judgment and blame.
Before I go through a few more examples, I want to clarify that doing this exercise does not mean that we are condoning littering, bad driving, and selfish behavior. We all have the responsibility to take action when necessary and to be considerate and caring of others. But when I look at my pet peeves from this new perspective, I am able to clearly see the reflection of places I can personally do a better job in living day to day life.
To finish up, here are some potential meanings of the other peeves I've listed and questions to ask yourself:
Getting mad a drivers who do no use their turn signals: In what way I am neglecting to indicate my own direction in life- with my work and relationships. Am I giving clear intentions about where I am going? Or am I being clandestine,  secretive or at times, just plain clueless?
Being upset by people who speed up when I am trying to pass them on the highway: Am I supporting the people around me and honoring the pace that works best for them? Or am I judging and internally criticizing people who are trying to move forward from a place of stagnation? Is it possible that I am being pushy?
Getting annoyed with people who carve their names in rock in state parks (or anywhere else!): Am I trying hard to leave an "impression" with others? Where am I focused on me, me, me  – to the exclusion of others needs and desires? Am I secretly harboring a fear that my life doesn't matter unless I do something of permanent lasting "value"?
Being upset by people who throw cigarette butts on the ground: Where am I leaving emotional debris? Am I being responsible for my interactions with others, or am I  throwing  'buts..' around (i.e. getting defensive) when someone points something out to me about how I could do something better.
Getting upset when someone cuts in line: Am I trying to short cut or get ahead others? Am I being considerate and patient?  I am cutting someone off while they are talking to me, or allowing myself to be distracted on the phone instead of paying attention?
When you uncover the true meaning of your pet peeves, you are then able to make a commitment to yourself to be more aware, more kind, more caring and basically, more heart-centered.
I'd love to hear your pet peeves and the inner meanings you discover!
Happy Discovery!
Ronna
PS – guess what just happened? (Sorry if I'm getting too personal here but this is too good not to share!) I just discovered an empty toilet paper roll in the bathroom. I had a wonderful, heart-centered laugh!! AND I'm off to write my 2 paragraphs.
(Note for my non-US readers- TSA is the Transportation Security Administration, the group in charge of airport security in the US)
Airports and stress have come to by nearly synonymous since 9-11. The 9-11 incident changed our lives in many ways as a society, none more evident than our experience of traveling through the "friendly skies". I travel extensively as part of sharing my film with the public and coaching with individual clients. While on the road, I am always asked by at least one person : "How can you stand to fly so much? Isn't it just terrible at the airports today?" My answer is, "I love traveling and one of my favorite things to do is to lighten up a TSA agents' day!"
But I had to consciously work on this, on many levels, especially when they started the "pat down search".  Here is a photo of how I felt before I hit upon an effective de-stress practice at the airport.