depression laughter
Permanent Peace
See info at the end of this post for a free webinar, Thursday, December 4 at 6 pm Mountain Daylight Time
Do gratitude and peace go hand-in-hand or is it possible to experience one without the other?
This is the question I'm pondering as I get ready to prepare the Thanksgiving feast I will have with friends and family tomorrow.
My personal answer is that I believe we can feel and express gratitude and NOT feel peaceful inside – but by contrast, we CANNOT feel peaceful without feeling grateful at the same time. Make sense?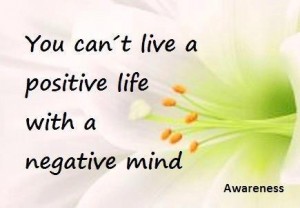 It should if you think about it. Here's an example:
It's easy to feel grateful for the things that we have in the moment – family, relationships, health,  jobs, shelter, food, clean water and transportation to get to get to where we need to go. At the same time, it's common for people to feel anxious about the future and losing any one of these things. In other words, it's common to feel grateful for the present and to worry about the future. It's also common to feel grateful about the present and to feel depressed about the past. When we live this way, gratitude can quickly wash away with the next wave to hit the shore.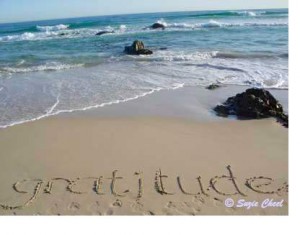 BUT if you are truly at peace, deep peace, you are not sad about the past or worried about the future. In the present moment, the only moment we have, the backdrop of our experience is a feeling of gratitude for everything that has happened, and a knowingness that whatever the future brings, we can still choose to come from this inner place of peace.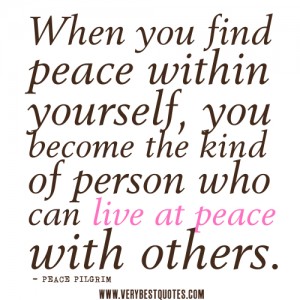 In my film Sacred Journey of the Heart, I actually described this state of being grateful for the past and everything that happened to me, including a childhood of abuse. And  I courageously ended the film saying that "my heart will lead the way", to whatever the future had in store for me. But I really wasn't at peace- not yet – because my brain actually did not know how to function this way!
Literally, my brain was hard-wired for hyper-vigilance, a state of being on guard for impending threats. My nervous system was locked in to a low grade anxiety that could spike to intense anxiety at a moment's notice. My limbic system, the emotional part of our brain, was programmed for sadness that sometime tipped into low-grade depression. And a deep brain structure, called the cingulate gyrus, that is actually shaped like a loop, kept me wired into a pattern of rumination and worry about "what if…." And worst case scenarios – all so I could be prepared in case of danger.
As you undoubtedly know, this is in no way, connected to a state of inner peace. I was grateful, but I was not at peace.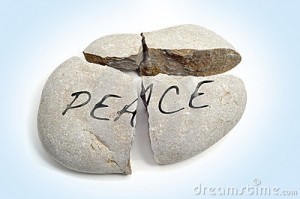 If this sounds familiar, I can also tell you that there is a way out of this, and it is easy, relatively quick  and it is lasting.  The result is that state of being that I call Permanent Peace.
The problem is, you can't get to Permanent Peace unless you can get at the underlying pattern that the brain defaults to in times of uncertainty and stress. For me, this is the Missing Link. It's what I discovered in my 4 week Behavioral Relationship Entrainment program offered by Brain Tek, a cutting edge research group in California. I'm now certified to offer this to my clients which I've been doing for a few months  with great results all the way around.  Here is a typical comment after a client has been through the "un-wiring – re-wiring" brain/behavioral program:
"The Brain Tek program has been one of the most positive things I've done for myself. I am happier, more patient and less anxious. I'm more organized, and motivated and get more done in a day than I did in a week. I can't thank Ronna enough for introducing me to Braintek."
Katie J. LCSW
What is Permanent Peace?
I believe it's an inner state grounded upon understanding, acceptance, and trust.  For me personally, there is also a very prominent spiritual component to this that I practice in daily prayer and meditation. I am now able to consistently be in this deep inner place of peace, because my deep brain structures that reacted to past experiences are freed up. My higher cortical reasoning function, i.e. the frontal cortex of my brain, can now choose to be at peace, rather than run my response based on past patterns.
Permanent Peace includes:
Freedom from anxiety, worry and rumination
Alleviation of depression
Elimination of fear (which I call "Familiar Energy Arising Repetitively")
Ability to enjoy the moment
Staying focused on one's core values and ethics
Contributing to the betterment of other's lives
Equanimity in the face of the unknown
Feeling connected to everyone and everything without identifying with it
In this state, gratitude is natural, it flows and it becomes the foundation for everyday life, not just a special day, a time of prayer or a response to something good happening. This is permanent peace, and it does surpass understanding.  I do believe it is possible and I have experienced it in my life and seen it in the lives of others who dive in to the cause of anxiety, fear and depression – unwiring the deep brain structures so that our personal practices can direct the flow of our lives.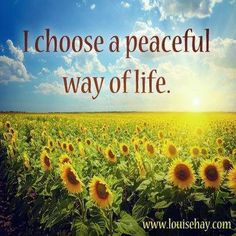 If you are interested in learning more, please join me on Thursday, December 4, 2014 at 6 pm Mountain time for more information about Brain Tek and the program that rewires your brain for Permanent Peace.
Title: BRE Program Presentation
Time: Thursday, December 4th at 6:00pm Mountain
Listening method: Phone + Web Simulcast
To attend, visit:
http://InstantTeleseminar.com/?eventid=62868234
Phone Number:
(425) 440-5100
Pin Code: 339751#
Happy Thanksgiving and many blessings,
Ronna
Have you ever had one of those days when things were just not working out? I had one of those days yesterday and rather than bore you with the details, I'll just share what I did to get out of the pits and into the place of positive perspective. I call it L-A-U-G-H! And I share my "laugh resources" below. But first, did you know that on Tuesday, May 6, a new world laughter record was set by 1,950 elders in Dada Dadi park in Borivli, India? Here's a great photo of the group in action!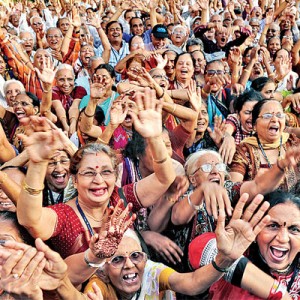 We know that laughter can be the best medicine.  Norman Cousins' groundbreaking work on laughter changed the way we think about emotion and healing 38 years ago.    Read the rest of this entry